Host: Brent Holland

Airs: Tuesday, 8:00pm - 10:00pm EST
Studio: B



Brent has two broadcast shows, both focused on students - high school, college, university and all the rest of us at all ages - both are a volunteer show and put on by a staff of one, Brent Holland.

Brent Holland Show interviews international and national legends including Prime Ministers, Nobel laureates, icons and legends. (please see below)

Night Fright is the number one show of its genre in Canada
Contact: nightfrightshow@gmail.com

nightfrighshow.blogspot.ca

brenthollandshow.blogspot.ca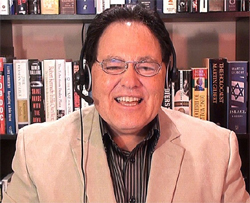 Guests on the Brent Holland Show have included:

- Shirin Ebadi (Nobel Peace Prize)
- Jody Williams (Nobel Peace Prize)
- Mairead Maguire (Nobel Peace Prize)
- Dr. Douglas Osheroff (Nobel Prize for Physics)
- Ted Sorensen (closest aid to JFK & RFK)
- Canadian Prime Minister Paul Martin
- His Excellency Canadian Governor General David Johnson
- Honourable Irwin Cotler (Canada's Attorney General Nobel Peace Prize Nominee 2010
- Lt. General Rom? Dallaire (Peacekeeping hero Rwanda)
- Erin Brockovich (international environmental advocate)
- Joseph Sebarenzi (Speaker of the Rwanda Parliament, genocide survivor)
- Minni Jean Brown (civil rights legend; Little Rock Nine)
- Khaled Hosseini (The Kite Runner)
- Jane Goodall (International Humanitarian)
- Abraham Bolden (1st African American Secret Service agent handpicked by JFK himself)
- David Finkel (Pulitzer Prize winner / embedded in Iraq)
- Charles Evers (1st African American Mayor; head of NAACP; brother of Medgar Evers)
- Maj. Gen. Lewis Mackenzie (in charge of UN peace keeping missions around the world)
- Lydia Rychner-Reich (Holocaust survivor, befriended Anne Frank in camps)
- Dr. Efraim Zuroff - (Simon Wiesenthal Center Israel - World's Leading Nazi Hunter)
- Alan Thicke (star of #1 ABC TV series "Growing Pains"; spokes person for Diabetes Care)
- Alan Dershowitz (legendary human rights lawyer)
- David Suzuki (award-winning scientist, environmentalist and broadcaster)
- Tom Lipscomb (Pulitzer Prize nominee and multi-award winning international author)
- Marina Nemat (author Prisoner of Tehran, escaped Evan prison after torture)
- Ky-Mani Marley (son of the late Bob Marley)
- Heather Reisman - (CEO Chapters / Indigo; Canada's Barnes & Nobel)
in addition, many others who have been on Larry King, Charlie Rose, Letterman, etc. www.brenthollandshow.com

Mr. Holland is author of JFK Assassination from the Oval Office to Dealey Plaza based on exclusive explosive revelations made by JFK's closest aid Ted Sorensen to Brent Holland.

- Ted Sorensen, JFK closest aid and speech writer. Ted passed away on October 31, 2010 after taking a stroke two weeks previously just after getting off the phone with the White House.
- James Teague third person wounded in Dealey Plaza that day, inadvertently responsible for The Magic Bullet Theory. Many people today are completely unaware of his story.
- Dr. Robert McClelland surgeon who worked on JFK and on Lee Harvey Oswald. Imagine having the opportunity to speak with the doctor who worked on Abraham Lincoln.
- Beverly Oliver 1st person witness to assassination. Beverly can be clearly seen in all film footage of the assassination, not 10 feet from JFK. She witnessed the fatal head shot. She also filmed the assassination that day but had her camera confiscated by the FBI, because, it is believed, she had accidently filmed the actual shooter on the Grassy Knoll.
- Abraham Bolden 1st African American on JFK Secret Service Detail handpicked by JFK himself not on duty that day, reveals there were other plots afoot before Dallas that were illegally covered up so the Secret Service could save their own hides.
- Mark Lane was chosen by Bobby to be JFK's NYC campaign manager. He represented purported assassin Lee Harvey Oswald's interests to Warren Commission. He produced the 1st JFK assassination documentary "Rush To Judgment" and wrote the Hollywood film "Executive Action" starring Burt Lancaster. As a lawyer, Mark won law suit against CIA operative E. Howard Hunt accusing Hunt of direct involvement in JFK assassination. CIA operative and assassin Gerry Patrick Hemming confessed being involved in the JFK assassination that day.
- Jim Marrs whose book "Crossfire: The Plot To Kill Kennedy" was made into the Hollywood feature film by Oliver Stone "JFK".
- Robert Groden senior consultant to Oliver Stone on Stone's Hollywood feature film "JFK".
- James DiEugenio consultant to Oliver Stone's blockbuster "JFK" DVD.
- Lamar Waldron whose book "Legacy Of Secrecy" has been made in the Hollywood blockbuster film of the same title starring Leonardo DiCaprio and Robert Diniro.
- Sherry Fiester senior Crime Scene Investigator (CSI) who has used modern 21st century forensic techniques on the JFK crime scene and has found a frontal shot.
- G Paul Chambers NASA physicist who has examined the Zapruder film using the laws of physics and also has determined a frontal shot.

Mr. Holland has produced two JFK related documentaries:
1. Abraham Bolden: American Hero the 1st African American Secret Service Agent handpicked by JFK
2. 1st person Witnesses To The JFK Assassination the rue life story of 3 1st person eyewitnesses and what they witnessed on November 22, 1963.
a. Dr. Robert McClelland emergency room surgeon who worked on JFK at Parkland hospital
b. James Tague the 3rd person hit by sniper fire in Dealey Plaza and became inadvertently responsible for The Magic Bullet Theory
c. Beverly Oliver assassination witness who saw JFK's head explode in front of her, that day and who knew Mafioso Jack Ruby and received death threats for what she knew.

Holland is currently producing the feature length documentary "Ted Sorensen: The Man Who Saved The World...Really!" It was Ted that JFK tasked to write the letter to Khrushchev to get him to pull the missiles out of Cuba during the Cuban Missile Crisis.

Brent Holland is a multi award winning music composer for feature films and television having composed for NASA, ABC, CBS, NBC, FOX, PBS, CBC, SRC, CTV, TVA, TQS, Global, etc. and also in Vietnam, France, Turkey, Great Britain and Europe. His score for the Canadian feature film 21 Brothers, about Canadians in the trenches of World War I, is in the Guinness World Book of Records.

Holland has BFA in Music and BFA in Theatre Design (lighting) having worked extensively in this area with Bon Jovi, Michael Jackson, Rod Stewart, Yes, etc.